Online maize registration process
Lets know what is online maize registration process in this article Agriculture produce market committee Maharashtra then just download the form which is given in the pdf format. Friends many farmers want to sell their maize crops in good maize price per quintal in Maharashtra but the didn't get good price for their maize hence probably go to sell it to private merchant and private maize traders. There is many maize traders in Maharashtra who want to buy farmers maize in the low price and sell it in good price. But if farmers go to sell their maize crops online or in the agriculture produce market committee then there is the possibility to get good price for theirs maize crops so for that farmers have to know what is the online process to sell their maize crops
Download maize registration offline form
Clik on the below link to download maize pdf form.
ऑनलाईन-मका-पिक-नोंदणी-अर्ज.pdf (801 downloads)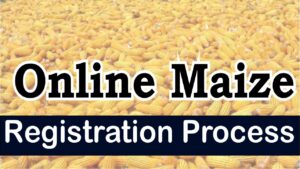 This is example the maize registration form, once you download this form just read out this maize registration form and fill it properly and submit it to related agriculture produce market committee's office. Farmers have to buy fresh maize registration form and fill it properly, above mentioned pdf from just example kindly notice this.
Online registration process to sell maize
If you want to sell maize online then just watch below video or click here. The complete online maize registration process as well as offline process has given in this video you will learn that process if you want to sell your maize in the Maharashtra state to the your districts or talukas agriculture produce market committee.
Vikel te pikel Abhiyan
Farmers have taking lot of crops in their farms but they didn't get good price for their agriculture product hence the government Maharashtra has started the campaign namely Vikel te pikel Abhiyan where farmer can forms their group and able to sell their farming product in good price. Farmers have to take advantage of these scheme.
if you want to get government scheme information then you can visit our youtube channel just click on the below link
https://www.youtube.com/c/DigitalDG/videos