This article is about government subsidy for fish farming in Maharashtra. If you want to do fish farming and want take advantage of pm matsya sampada yojana then just keep reading. You can visit fisheries department Maharashtra and take benefit of this pm scheme for fisheries. In this article we will cover how to visit pradhan mantri matsya sampada yojana official website, what is matsya sampada yojana, what is the process to do pradhan mantri matsya sampada yojana registration, what is pradhan mantri matsya sampada yojana guidelines as well as how to get advantage of fish farming subsidy Maharashtra if you are living in the Maharashtra state.
If you want to take more information about  fish farming subsidy Maharashtra then just contact with various fisheries department district office. Contact numbers given in the PDF file just download it by clicking on the below link
Fisheries-department-district-office-contact-numbers.pdf (3126 downloads)
Download news pradhan mantri matsya sampada yojna
दैनिक-पुण्यनगरी-वर्तमानपत्र-दिनांक-30-सप्टेंबर-२०२०.pdf (2549 downloads)
If you are fishermen and looking government schemes for fishermen then there is lot of scheme available on behalf of fishery department Maharashtra. If you are already doning fish farming in Maharashtra or doing plan for do it then you can get fish farming loan subsidy.
Friends if you take a short tour of future then what you will be see, you will be see there is not many more opportunity of the job in the future so why not we start our own business. If you want to do business in farming then why not jump to do fish farming. Government has given financial help to start fish farming, if you belong Maharashtra reason then you have to do study of maharashtra fish farming before start fish farming.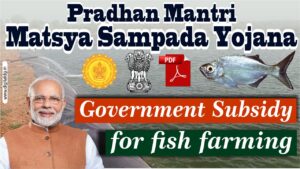 If you want to get more details about Matsya Sampada Yojna then watch this video
If we thinking we have no idea about fish farming then how to start fish farming in Maharashtra then don't worry there is training program also available on behalf of Maharashtra government. You can get training regarding fish farming and can do start your fish farming business and can earn more money as you expect.
Now you will ask which is the government official website to get more information then you can visit https://fisheries.maharashtra.gov.in/ just click on the link where you can get all details of fish farming subsidy Maharashtra.  If you are searching pradhan mantri matsya sampada yojana Marathi or government schemes for fishermen as well as pm matsya sampada yojana apply online process then you can get all information here. The website is desined in two language English and Marathi.  If you want to read all this maharashtra fish farming information in Marathi language then just go to the website right top corner and switch English to Marathi or Marathi to English any time as per comfort.